Headmassage - Shiro-Abhyanga
Indulgence for body and mind
This form of massage not only increases physical - but also mental well-being, too.

A quiet, cozy place where you can sit or lie comfortably is particularly important in order to achieve relaxation. Depending on your taste, candles, relaxing music and a special scent can help to relax.

Futhermore, a properly manufactured quality herbal oil should be used prescribed by a doctor according to the condition of the person that recieves the treatment.
Head massage is a treatment that focuses on massaging acupressure points along the head, neck and shoulder, often using circular massage strokes to improve hair and scalp. Circular massage movements are carried out with the fingertips to revitalize the hair and scalp. Mental and muscular tension are released by pressure on the scalp and forehead. However, strokes should always be gentle when massaging the skull base.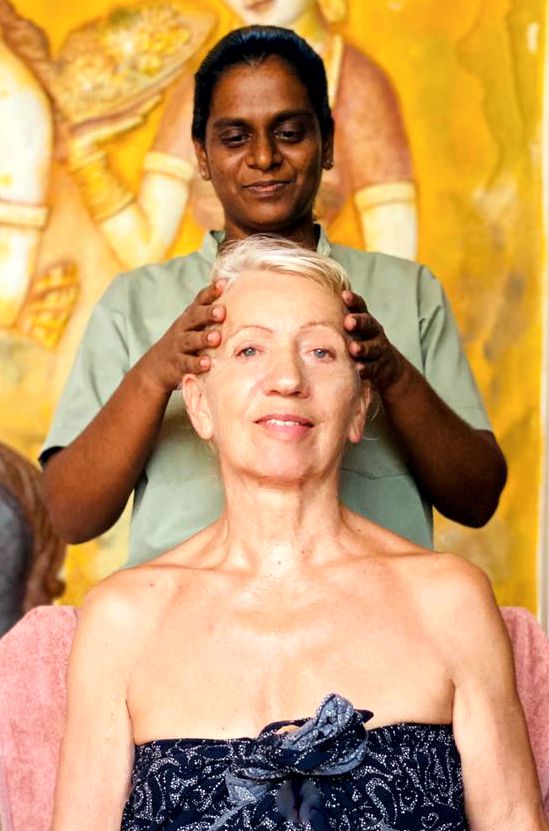 Brief History

This massage method has been practising in asian countries specially in south and east asia for 1000 years.and it s a part of the practice of Ayurveda (alternative medicine system thanslated as the science of life)
Traditionally head massage was used at important occassions in india and other regions and today ayurveda treatment centers keep practising the massage method to promote good health.
Benefits

there are so many good results we can obtain by receiving a good head massage
* relieves headaches.
* good for the relaxation
* reduces depression, anxiety, and other stress-related issues.
* promotes sound restful sleep.
* may help strengthen the immune system.
* reduces the pains in neck and shoulders.
* stimulates and improves scalp circulation to strengthen and to improve the growth of hair.
* relieves muscular tension and stimulates blood circulation in the head,neck and shoulders
* increases concentration
* stretches the tissues of the neck and shoulders
* rebalances vital energy flow
* instill a sense of peace